Making Art in Paradise –
A Caribbean Workshop in Writing & Clay Sculpting Jan. 7-15, 2014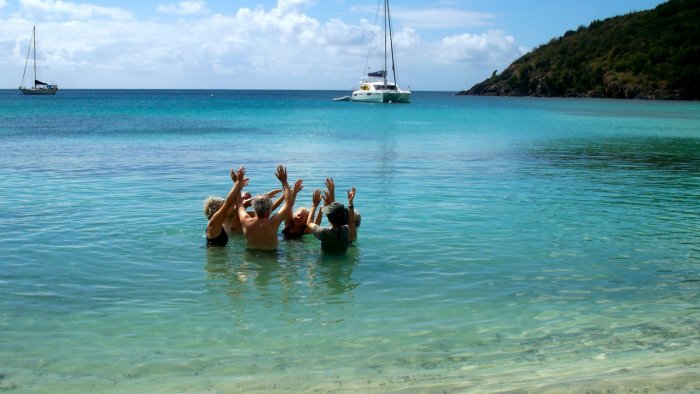 We must change the way we live if there is to be a world for our great grandchildren to inherit. Exercising our creativity transforms us & our world.
Nourish your creativity /vision with a writing & sculpting retreat with  psychosynthesis guide/potter Alan Steinberg & writer/teacher Fred Taylor
•    Encounter the life & landscape of the forest &/or the sea
•    Immerse yourself in the tactile, intuitive earthiness of clay.
•    Discover the power of your words to forge a bond with the archetypal soul of nature.
•    Find sources for hope; ground your sense of purpose and vision.
Alan & Fred's workshops incorporate Joanna Macy's "Work that Reconnects" – a process that empowers people to re-establish their balance with the "more-than human" world.
Imagine the poem that would flow from your pen while you relax on a wide sandy tropical beach, or the clay sculpture you would create after snorkeling along a coral reef, face to face with a giant Hawksbill turtle.
Each day will include opportunities to explore the landscape and seascape– above and below the surface of the water.

Rest in the shade as pelicans skim inches above the water. Snorkel above coral labyrinths, alongside brilliantly hued tropical fish. Hike to Taino Indian petroglyphs, sugar plantation ruins deep in the woods of the National Park, and craggy promontories with views across the water to distant islands.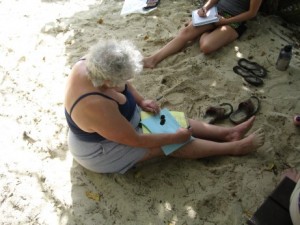 Guided writing exercises will enable you to play with the rich imagery of the natural world, explore connections with your inner landscapes, and uncover hidden meanings, bringing them into form on the page.
Clay work will enable you to ground your spiritual connection to coral, rock and root, to flipper, fin and feather, as forms emerge by hand through the tactile, intuitive earthiness of clay.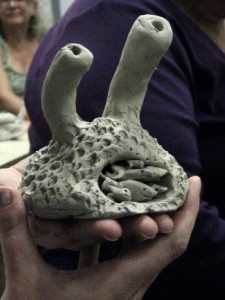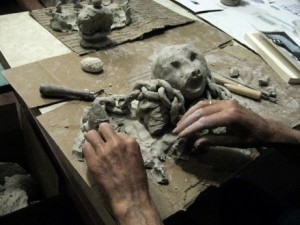 Fred Taylor reflects on the mysterious way these two forms of art enhance each other: "I'm intrigued with the notion that the clay adds something to the written word, helping us to go deeper into the embodied experience. When I create a piece of clay along with a piece of writing, it gives the heft of physicality to the experience, adding depth and dimension. Marion Woodman writes of the 'sacred sweetness of matter,' a quality in the physical world that has the capacity to heal our spirits when we let ourselves touch and be touched by it.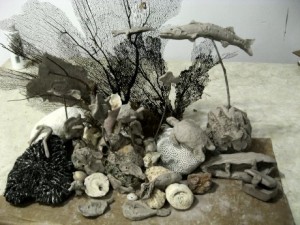 When I sink my hands into the clay, I touch that sweetness, and that quality energizes my spirit and infuses my words." The workshop explores this sacred dimension of the creative process through readings, times for reflection, and simple rituals for deepening and sharing our work.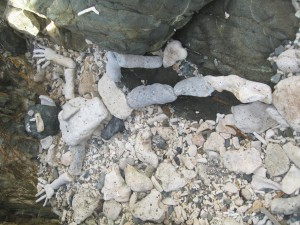 "Vacant" and "Vacation" come from the same root. In addition to nature exploration, writing and clay work, every afternoon you'll have free time to lie on the beach, explore on your own, or do whatever you need to renew yourself.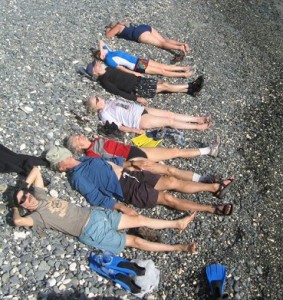 Working in clay and going for a walk: each absorptive activity sweeps away my stress, leaving me feeling calm and whole," says Steinberg. "But together their individual healing powers are catalyzed by some immeasurable factor. Each compliments the other, like breathing in and breathing out. Whenever I spend time in nature, I feel I receive a number of gifts. I am surrounded by beauty, shown the complexity of life. Being in a place of great beauty evokes beauty in us, and this gift of beauty we receive becomes the gift of beauty we create."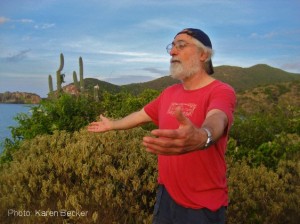 As the poet Rumi writes:
"Let the beauty of what we love be what we do.
There are thousands of ways to kneel and kiss the ground."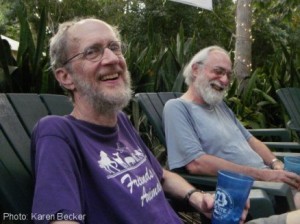 Fred and Alan work together to provide a unique atmosphere for stimulating creativity, while in the presence of wild nature. They've led workshops in the woods of Vermont (for BEEC – Bonnyvale Environmental Ed. Center), on the beaches of Cape Cod (through the Truro Center for the Arts), and among the big trees of Pendle Hill (Quaker study center in Pennsylvania).
The workshop will take place at the Virgin Islands Environmental Resource Station, St. John. USVI. Go to www.viers.org for site description, map and photos. Also go to www.stevesimonsen.com for more photos.
The cost of the workshop is $1375, which includes tuition, 3 meals/day, accommodations with hot showers in private or semi-private rooms, and all excursions.
Not included are plane fare to St. Thomas, St. Thomas taxi, ferry to St. John, taxi to & from VIERS, and snorkeling gear rentals, available at VIERS.
Please register early to insure accommodations of choice.
For further info, contact Alan at 802-387-4820, or Alans@sover.net; or Fred at 387-2681 or rtaylor@antioch.edu.
Alan Steinberg has been a ceramic artist and teacher for more than 40 years with work in galleries across the country. A founder of the Brattleboro Clayworks, he has studied with many well-known artists in the field, including Paul Soldner, George Kokis and Paulus Berensohn. Trained at the Synthesis Center of Amherst Mass., he also maintains a practice as a Psychosynthesis Guide. He has led workshops for Rowe Conference Center, Omega at the Crossings in Austin Texas, the League of New Hampshire Craftsmen, and the Vermont Leadership Institute.
Fred Taylor is a widely published essayist who has taught for thirty years. In Vermont College's M. A. program, he co-founded and facilitated the Thematic Cycle in Creativity, which brought together artists, writers and performers from around the country to share their work and creative process. In Antioch University New England's Environmental Studies Program, he teaches nature writing and leads writing trips to Cape Cod. He has also led workshops on writing, creativity and nature for colleges, churches and nature centers in New England and Minnesota. He holds a Ph.D. from Union Institute and University in Religion, Literature and Environmental Thought.
click here for the Workshops Archive  click here for Saint John testimonials