Workshops Archive
Re-Membering the Connection
A weekend clay sculpture and writing workshop on Cape Cod with Alan Steinberg and Fred Taylor.
Our ancestors crawled up from a salty source, from which modern humans have become increasingly disconnected.  Through the creative acts of our hands in clay and on paper, we forge anew the connective tissue of earth to bone, ocean to blood, sky to spirit.
Come explore the beaches and bogs, dunes and forests of the outer Cape, as your creative works in clay and writing "re-member" the bond between your outer and inner landscapes.  Discover your creativity as a deep well of healing – for yourself and the earth – through sculpting and poems, rituals and group sharing, including a night time pit firing on the beach.
About the Instructors:
Alan Steinberg has been a clay artist for 30 years with work in many fine galleries and craft exhibits. Among the many well-known clay artists he has worked with are Paul Soldner, Paulus Berensohn and George Kokis. A practitioner of yoga and Buddhist meditation, Steinberg has offered workshops at Rowe, Omega and other conference centers.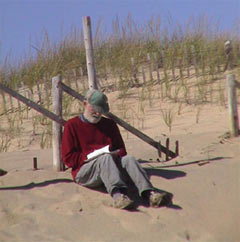 Fred Taylor is a widely published essayist who has taught workshops on writing, creativity and nature for thirty years, most recently at the VT College Master of Arts Program and the M.A. Program in Environmental Studies at Antioch New England Graduate School .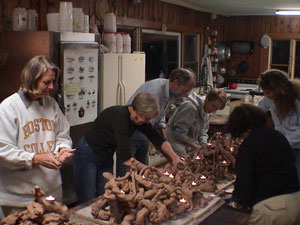 ---
A Hero(ine)'s Journey to The Sacred Mountains
in Clay, Myth, Ritual, and Poetry
According to the great mythologist Joseph Campell, we search not for the meaning of life, but rather for the experience of feeling fully alive. The artist's path, like the practice of yoga or meditation, can bring us to those places of awe we seek. The mythological "Hero's Journey" provides an archetypal roadmap to guide us on our quest. And negotiate that quest we must, both men and women alike, if we are to ripen into the fruitful members of our community we were born to be.

Minotaurs – Linda Miles

Join full-time clay Artist Steinberg for a 5-day hero or heroine's journey. Working in response to myths, rituals, meditations, stories and poems, we work with clay to allow our joys, sorrows, strengths, and weaknesses, as well as our essential longings, to emerge into form through our hands. We begin by saying goodbye to the familiar world of family and friends. We then set out to explore the "other" world, encountering and gaining strength from various allies as we confront and swallow our "shadows". Finally we return to our village to share our new found wisdom, having made a variety of clay pieces that speak to our unique personal experience.We come away with a heightened connection to ancient sources of wisdom and access to a deeper sense of our life's purpose. People at all levels of experience in working with clay, from newcomers to advanced clay workers, are welcome.

 Haiku – Akiko Oncken

Alan Steinberg has been a potter, sculptor and teacher for 35 years, his work shown in galleries nationwide A practitioner of Yoga and Buddhist Meditation, Alan has been a Student of Ram Dass, Pema Chodron, Stanley Kripner, Alex Grey, Sean McNiff, Peter London and Martine Prechtel. He has been on the staff of Rowe's Men's Wisdom Council and undergone the Mythic Warrior Training.


Ancester Tree – Leanne Schnepp
---

DIGGING TO THE ROOTS

If stones are the bones of the Earth, than clay must be her connective tissue. Born out of earthen clay, we aspire to flight. To grow strong wings we must feed our roots, we must reconnect with the Earth. Our bonds with the mineral, plant, and animal realms support us in our evolution towards enlightenment and nourish our visions.

It is no accident that when we experience strong emotions, we say we feel "touched". The most tactile of mediums, clay has the capacity to act as a catalyst, both physically and emotionally, bringing up hidden insights, as concrete images emerge through our hands. We will move in alternating rhythms, encountering the landscape, responding through clay, and enjoying each others' creations. The workshop will focus on exploration and discovery, rather than on skill building.

As we move more deeply into the landscape and our connections to it, we will experience the naturalness of our creative ability. Moonlight filtering through the branches of great ancestor trees, the stones upon which we sit, by the touch of our hands are transformed into mysterious beings made of clay. Those who have never sculpted before will uncover talents they never knew they had. Those with more clay experience will delight in the discovery that the earth is a deep well of creativity to be honored as a source for healing.

If we are to be the earth's consciousness, we must be conscious of the earth. We have two proper roles as self-aware beings on this planet. The first is as stewards; to honor and protect this world. The second is as creators who celebrate and feed the "other" world of spirit. The purpose of art goes far beyond the making of pretty things. It provides us the opportunity to find out who we really are; and, going deeper still, it provides a means of nurturing the spirit world so the spirit world can feed our world.

"This earth that we come from, this mother, would not be as fruitful, as reproductive and as supportive as she is without our appreciation. She needs to feel our appreciation. It nourishes her. The purpose of art is to praise, thank and express our gratitude and wonder. We make art to sing up the earth."

– Paddy Roe, Australian Aboriginal elder

-Sandra Streeter 
---

RETURNING TO THE SOURCE:
A WEEKEND CLAY SCULPTURE AND WRITING WORKSHOP

 

Spending time in nature takes you back to the source: of life, spirit and creativity. Explore the renewing land and seascapes of Cape Cod, where the ocean calls with archetypal power as the origin of all life. Dive into the complementary art forms of clay work and writing, and access the sources of your creativity and connection to nature. Be inspired to uncover new talents and discover the landscape as a deep and healing well, through poems and rituals, group sharing and a night-time pit firing on the beach (weather- permitting).
---
Forming Vessels, Building the Village
A celebration of creativity and community with Alan Steinberg
The image of a simple clay vessel appears as a powerful symbol in all the worlds wisdom traditions. Our hands fashion bowls to hold the soup. Our bodies serve as vessels of spirit. Our village serves as a vessel to hold safe our collective spirit. Small wonder that the process of making things in clay, the earth's "connective tissue", holds such power for so many.
Come spend a day working individually and collectively, to build a mysterious outdoor sculpture  which will remain in place.
Who should take this workshop?

Potters, poets and painters
Weavers, preachers, parents and teachers
Singers, dancers, printers, planters
Woodturners, ironmongers and storytellers
Healers, and helpers,
From Buddhist to Mayan to Zoroastrian
And anyone else ever awash in gratitude,
if just for an instant,
For their good fortune to be born with a human heart
-and opposable thumbs.