Shari Zabriskie
My journey with clay started in 1995 in the Gila National Forest of New Mexico.  I was traveling/camping/exploring wild places when I was completely moved by the red rocks and clay of the SouthWest.  Without any knowledge to feed the process I found myself digging clay from a creek and laying it out to dry on logs in the sun.  I sieved the dried clay and re-hydrated the silken powder into the most beautiful substance I had ever experienced.  This first foray into the world of clay turned into a clay bath instead of pots but it was the beginning, it was the seed being planted in my psyche, a calling if you will…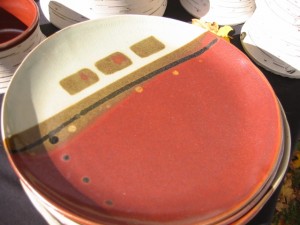 Shortly there after, I moved to Vermont where I took my first class with Doris Fredericks in Putney.  I remember how quickly centering came to me and the joy I felt when I knew I had found the center.   Since '95, I have been mostly self-taught but always surrounded by talented potters in the Brattleboro Clayworks Community.  For many years I worked with much discipline honing my skills while exploring a wide range of techniques and styles… searching for my own voice.
In 2008 I decided to focus full-time on my craft selling my wares at New England Craft Shows, galleries, gift shops and on-line.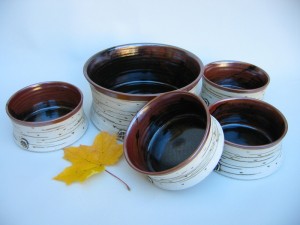 Currently, I am producing a line of pots that i call my "birchpots"  as well as sculpted utensil holders (or plant pots) with spirited faces known as my "potheads."   I also put a good bit of energy into making clay drums (doumbeks) with goat skin heads.  In addition, I create a few different lines of glazed-ware with a more contemporary, Japanese inspired design.
My pots are always evolving.  Change is expected from every part of the process, the clay itself, the alchemy of glaze, the fire…  There are lessons hidden in each aspect of the craft and I am listening, learning, stretching and growing.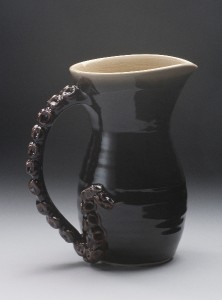 As I sit down at my wheel, I give a little thanks, for truly I love what I do:  the flow that I feel as my hands move the clay, the license I give myself to get creative, the satisfaction I feel when I see each piece transform into something useful and hopefully beautiful… I can only hope this joy comes through in my work.