Alan Steinberg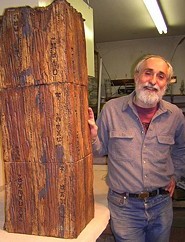 I was kidnapped by clay. On my way to another life, a chance course taken to fill up my schedule during my senior year in college, and it was all over. At first I sneaked into the school ceramics studio at night with several other addicts. Then after I landed a full-time teaching job in the N.Y.C. public schools I wound up at the clay studio of the Brooklyn Museum Art School evenings, weekends, and I now confess, a few sick days. Nine years later I was to give up my safe tenured teaching position to be a full-time self supporting clay artist.
That was 30 years ago. I look back on that period with gratitude and awe. That I was able to support myself and my family doing something I loved in and of itself was a gift too few have experienced. That I made it as far as I did, knowing as little as I did then, amazes and amuses me. If I had had any inkling as to how much I would need to learn, perhaps I would have backed away. Ignorance can be part of the path. Most important, though, has been the gradual realization that the work has been my therapy, not in the sense of fixing something broken, but rather, as Paulus Berensohn has pointed out, in the sense of the word's Greek root –thera – to ripen, as fruit does. Bit by bit it became clearer that at all times the pots or sculptures I created were metaphors for myself, that all my explorations were not about mastering some new technique, but about meeting myself, again and again. I came to this realization by myself, but in no way did I come alone. It is crucial to note that often I was brought to the edge of some new realization through the grace of some wise teacher who led me to that edge. Increasingly I have felt how spirit speaks through the material and through the artist as the heart opens.
Art is a path, like yoga or meditation is a path. Creativity is our inheritance. If followed with steadfastness and an open heart it can bring us to those places of awe we seek. In this regard clay is ideally suited. It is no accident that when something truly moves us we say we feel "touched". Clay, as a tactile as well as visual medium has an innate ability to bring up subconscious and unconscious insights through the use of our sense of touch. It is literally a catalyst, on both the physical and spiritual levels. When paired with archetypal materials such as mythology, ritual, meditation and poetry, epiphanies happen. Unfortunately, our culture emphasizes the conquering of materials rather than encouraging us to look within. This has been particularly true in the "craft" arts. This approach only separates us further from our connection to the world around us, often leading to boredom, desperation and resignation. There is great value to deepening one's technical skills as an artist, but we must learn to reprioritize that need so that those skills wind up as servants to our visions. In the last few years I have taught workshops dedicated to the process of helping artists, (including those who do not describe themselves as such) to open to the healing energy their creative souls possess. Teaching affirms and deepens my own learning.